ABOUT US
Femac, a leading supplier of bakery equipment, kitchen equipment and food processing equipment, offers a wide range of equipment that include Baking Ovens, Mixers, Encrusting Machine, Donut Equipment, Pastry Machine, Bakery Plants of different capacity, Packing Equipment and more.
Being in constant touch with bakers and their principles, Femac not only meets customers' requirements but also offers practical expertise. For Femac, success in baking depends on a number of contributing factors and an investment in quality equipment should not be compromised.
---
A Brief History of Femac Singapore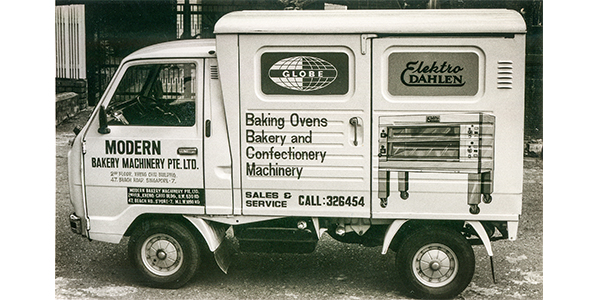 FROM MODERN BAKERY MACHINERY TO FEMAC SINGAPORE – FROM 1960 ~ TODAY
Femac Singapore Ltd is a leading supplier of a wide range of bakery and food processing equipment.
Range of equipment includes Baking Ovens, Mixers, Encrusting Machine, Pastry Machine, Bakery Plants of different capacity & also packing equipment.
We keep a comprehensive range of spare parts for service to our customers and we pride ourselves as a company who is able to provide sales, spare parts and service to our customers.
The company was founded by our late chairman Mr Chua Keng Hock in 1960.
At that time, the company was named Modern Bakery Machinery Pte Ltd.
We were one of the first companies to import electric ovens into our country. During this period, the bread made in our country was basically loaf bread. (Open top sandwich loaf)
In 1974, Yaohan Department Store opened their first departmental store in Plaza Singapura. The first appearance of Yaohan revolutionized the shopping experience & also the bread eating culture in Singapore.
We were approached to supply and maintain the first bakery outlet in Yaohan and, we went on to supply all outlets in Singapore and Malaysia.
In the span of 16 years, we have supplied to many bakeries around this area, thanks to the fast popularity of Yaohan's bakery in this region.
From the first appearance of Yaohan, the whole bread industries changed. The "An-pan" became the hottest bread during that time.
In 1981, another Japanese bakery came into the market. From a humble start of 1 outlet in the city, Four Leaves has now a central kitchen and 25+ outlets in Singapore.
Included in this bakery group, are the brand name of Panaderia, St. Leaven, Pop doH, Peck, Epid'or and Splash & Decker. In addition, Four Leaves has two subsidiaries in Kuala Lumpur and Penang of Malaysia.
We are proud to have Four Leaves as our customer.
In 1992, to further expand our business, Modern Bakery Machinery started a joint venture company with Prima Flour Mills to expand this business. The joint venture company is called Prima Modern Machinery; Prima as in Prima Flour Mills and Modern Machinery as in Modern Bakery Machinery.
In 1995, due to differences with the joint venture partners, Modern Bakery Machinery decides to leave this joint venture company.
End of 1995, the original management & staff of Modern Bakery Machinery left Prima Modern Bakery to start a new company; Femac Singapore Pte Ltd.

With the support of all manufacturers and staffs, Femac Singapore was born in December 1995.
In the year 2000, with the opening of Breadtalk Singapore, starts a new ERA in our baking industries. Bakeries in our region, are of simple in store design and makes a limited range of bake products. With this new player in the market, Breadtalk Singapore, raise the standards of the bakery in Singapore and the surrounding region.
In 2003, Breadtalk was listed on the Stock Exchange of Singapore
Femac Singapore supply to Breadtalk in Singapore, Malaysia, Indonesia, Thailand & the Middle East.
We are proud to have Breadtalk as our customer.
SATS Catering (Singapore Airlines) is another customer who chooses to work with Femac Singapore. The criterion to win a project in SATS Catering is not based on price alone, quality & service standards are the mean measure for their award of their contracts. We have since sold many machines into SATS Catering.
Today, we have our operations in Singapore and Malaysia, providing sales, spare parts & service for our customer. We have also created service centres in Indonesia & Thailand to cater to the service needs our new and existing customers.